Sun Protection – The face is one of the skin's sun terraces, so it is particularly frequently exposed to UV radiation and therefore needs reliable protection. But what is better: daycare with LSF or the "right" sunscreen? Many people ask this question when the sun comes out. But, do you know the difference between these product types? And do you know when to use which product? This blog article will teach you everything you need about UV protection for the face.
What Is The Difference Between Day Care With Spf And Sunscreen?
Reliable protection against UV rays is essential to prevent premature skin aging and harmful skin changes. But skincare should not be neglected by many. If you look at the selection of sun creams and day care products with a sun protection factor, you can quickly lose track – especially if you don't know where the differences lie.
To put it simply, traditional sunscreens focus on sun protection, while daycare with SPF primarily cares and also offers UV protection for everyday use. When which product type is more suitable depends entirely on the situation.
In Which Cases Is Day Care With Spf Recommended?
Daycare with a sun protection factor (SPF = sun protection factor) offers two functions: care and sun protection. A sun protection factor supplements this care component.
Daycare products with SPF offer ideal essential light protection for everyday life. We recommend this product for the whole year because the UV-A radiation is constant throughout all seasons. This type of radiation also penetrates through clouds and glass, thus burdening the skin all year round. The result is, in particular, premature skin aging. Many do not know that the sun protection factor only says something about protection against UV-B rays. However, the UV-A rays contribute to the premature formation of wrinkles. Our tip: Therefore, pay attention to UV-A protection when buying daycare.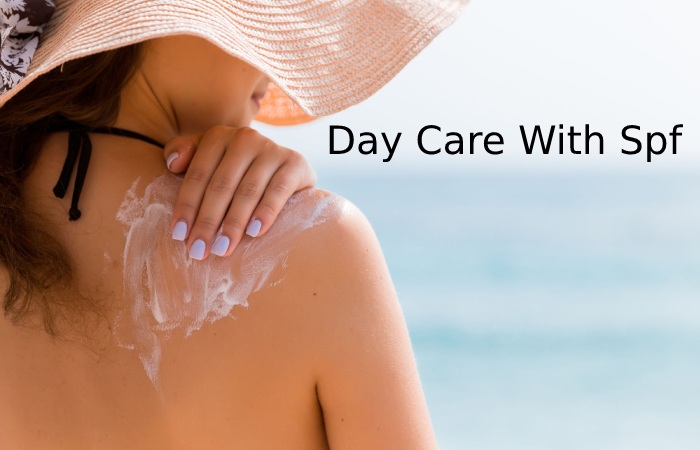 And Another Tip – When using day care with SPF, always calculate with a lower sun protection factor to be on the safe side than stated on the product. The reason is that two milligrams of daycare would have to be applied per square centimeter of skin to get complete sun protection. That's roughly the equivalent of a teaspoon for the face—well, more than most people put on. Unfortunately, studies have shown that, as a rule, only a third of the recommended amount is applied to the face, and the daycare cannot provide complete UV protection.
When Should I Rather Use Sunscreen?
A dedicated sun protection product is always the first choice when
A long day outdoors ahead.
When a high UV index is announced for the day.
Summertime.
Again, choose a product that suits your skin type and use a sufficient amount when applying. Important: Applying sunscreen does not give you a license to stay in the sun forever. The protection will expire after a particular time, depending on the skin type.
Product Tips – Day Care With Uv Protection
Hydrating cream SPF 50 provides intensive moisture and is specially designed for dehydrated and sensitive skin. In addition, daycare with UV-A and UV-B protection is ideal as a make-up base.
Skin harmonizer SPF 50 is a tinted daycare with a UV-A filter and UV-B protection, which optimally conceals redness thanks to balancing green pigments. As a result, acne and blemished skin appear more even and pleasantly soothed.
Product Tips  – Sun Protection Products
Suncare sensitive spray SPF 50+ offers very high UV protection without whitening. In addition, the light spray makes the skin pleasant and protects the cells thanks to vitamin E.
Sun care-sensitive fluid SPF 50+ is suitable for all skin types and reliably protects particularly light-sensitive and photosensitized skin.
Conclusion
Sunscreen is an essential requirement for skin protection. The harmful rays affect the skin and destroy the skin layers. So, sunscreen plays a vital role in protecting the skin. Whenever you need additional UV protection over and above the essential light protection of the daycare, pure sun protection products can supplement or increase the protection.