Cotton candy pink hair for women is one of the most subtle ways to wear a romantic and youthful mane. In addition, this coloration is perfect for blonde or bleached hair since it does not require much maintenance.
"I believe in the color pink. That laughter is the best calorie burner. I think happy girls are the prettiest. Tomorrow will be another day, and you must believe in miracles." In the face of troubled times, Audrey Hepburn's words have never been more accurate. Pink hair now seems the most optimistic color trend.
What Does Cotton Candy Pink Hair Color Mean?
Pink color appeals to feelings, inviting them to be kind and deep. It induces affection and protection and is associated with innocence and generosity. Isn't that what we need in times of crisis?
Wearing pink hair is not only remarkable — catwalks, celebrities, and street styles say so — but it is a way of embodying a message of positivity. In addition, pink hair is exceptionally flattering, both for blondes and for brunettes and redheads.
How To Achieve Pink Hair?
To achieve a uniform tone, remember that you need a bleach job beforehand. In addition, you must ask your stylist if your hair is suitable for it or, on the contrary, it is too fragile and would not support it.
Pink tints allow for many variations, depending on the base. For example, you can opt for a near platinum finish or a darker version. The observations make it more substantial.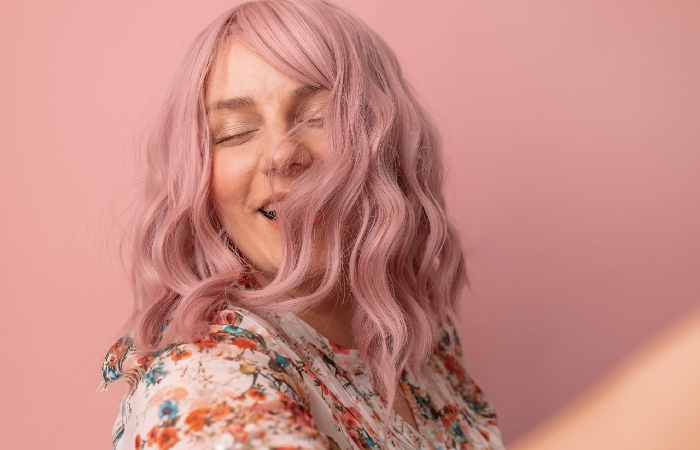 How Long Does Cotton Candy Pink Hair Color Last?
The answer depends on the type of dye applied. A permanent dye should last a month before growth is noticeable. After that, however, the color gradually fades. In contrast, an ammonia-free or semi-permanent color fades more quickly, but the touch-up can wait a little longer since the growth is less evident. The color will come off with the first wash if you use a temporary dye.
Remember that fantasy dyes require discipline in care. How long they last on your hair will depend on many factors. If you want yours to last, you should visit the salon at least once a month. Do you prefer a more flexible routine? Opt to apply the color in the form of highlights from mid-lengths to ends. In addition, this way, your look will be more natural.
Beauty Trends With The Cotton Candy Pink Color
As with the significant Instagram beauty trends, talented stylists are always finding a way to create new hairstyles. For example, we recently found a new way to wear hair, which has to do with sweets. Someone has made bubblegum hair, and it's fantastic. Of course, plenty of stylists are inspired by the colors of candy. But none have attempted to incorporate the sparkle and texture of bubble gum into the hair.
After Kim Kardashian came out with pink hair, people began to believe that this should be her next shade. Whether you dye a small section of hair or do a color wash on your entire head, bubblegum pink hair is a cute color that works for everyone.
Conclusion
Cotton candy pink hair color lasts long and is one of the major trends currently. Beauty and fashion trends change according to time. These trends are relevant to celebrities and models around the globe.